Triangle Business Park Recreation Area
Description
The site is a recreation facility for people who work at one of the companies with offices in the business park. There are a picnic area, exercise trail, basket and volley ball courts, and most interesting to astronomers, a soccer field. It is surrounded by trees which appear to block out most of the nearby streetlights.

At a late-October observing session, limiting magnitude was between 4.7 and 5.5 at zenith based on a star count using IMO region 6 in Pegasus. There was just a hint of Milky Way through Cygnus, and the double cluster in Perseus was visible naked-eye when it got up to about 45 degrees.

The biggest drawback for most people is probably the fact you can't drive to the observing field. This means you have to carry your equipment about 30 meters before you set up and after you take down. The trees around the site are a mixed blessing, obscuring the horizons, but blocking the adjacent street lights. When the leaves fall some of the adjacent lights may not be blocked so the site may not be as good during the winter. For a close-in site it's pretty good, especially for quick 1-hour sessions during the week. I'll certainly observe there again when i need a quick astro-fix.
Access Information
The site is identified on a sign as for use only by people working in the Triangle Business Center (a chunk of real estate with offices on it), so i suppose to observe there you either need to work in one of the offices, or be a guest of someone who does (which in this case would be me). The sign further claims the gate closes at 4:00 PM. However, in the times i've been there after dark, the gate was still open. In addition, there is a grassy right-of-way which allows access (on foot) even if the gate is closed. But, you can not drive up to the observing area regardless of whether the gate is open or not, so you'll need portable equipment you can carry about 30 meters (100 feet).
Map
---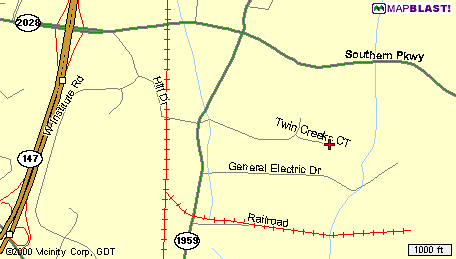 ---
Directions
From I40, take South Miami Boulevard north. Turn right on Stirrip Creek Road, then right on Twin Creeks. The site is off the cul-de-sac at the end of Twin Creeks.
Disclaimer
Note that i have not yet had a chance to contact the business park's management to get official permission to use the site. However, i do work there, and it doesn't explicitly forbid use after dark, so i feel comfortable in saying it's OK as long as we're polite about our use.