WHO ARE THESE GUYS?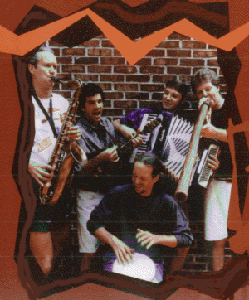 photo by Rick Maloof, 1995

Tim Whittemore's pursuit of a college degree has become a hobby by default. The last decade of university life has helped Tim develop his musical self and creativity. Results include performance of an opera he wrote and the recording of the meditational didjiridu album "Ancestral Rain". Tim plays didjiridu and tuba, composes, builds bizarre musical instruments, and eats lots of garlic hummus. He has been teaching didjiridu for the past year, and is currently writing a booklet (eventually a video) on Didjiridu. Tim graduated from Salisbury State University in May, 1996. Tim is now handling all business inquiries for Big Blow and the Bushwackers. He can be reached at via phone at 1-800-380-1128, E-mail at bbatb@toad.net, or write to:
Big Blow and the Bushwackers
302 New York Ave.
Salisbury, MD 21801
Ted Porter is chronically infected with the "music bug". After a brief bout with upright bass, Ted took to the mandolin. He is a third generation Orangeman-American and devotee of unpopular musics of all kinds. Ted has written and collected tons of tunes from his travels in Great Britain, Italy and France. There, he busked the subway stops and markets, and joined and learned from the street bands and free jazz scare of the '70's. Bushwacking is Ted's preferred therapy for owning a small business and raising two children with his wife, Mary Reed, and his dog, Albert.
Don Plehn, screamer/songwriter. Like most artists of ill repute, Don tumbles through ordinary exploits for inspiration and enlightenment. Watch Don work out new lyrics on hot pizza boxes or hear Don try a verse or two out on unsuspecting Real Estate prospects. Hire him today to sell your dirty old duplex! He's go-o-o-o-o-d!
Mick Haensler started playing drums at age four on a trashcan and stool with a set of chopsticks. After many unsatisfying years in school and pop-rock bands, Mick gravitated to DJ'ing dances and hosting open mike nights, where he met the Bushwackers. Mick the drummer transformed into Mick the player of unusual instruments like Bodhran, Dumbek, Rub-Board and Percussion Airway. You might see him driving off Deal Island with blown out windows on his pickup truck, and his two dogs terrorizing passersby. Don't worry; They're just on their way to a show with the Bushwackers!
Ted Watkin, Renaissance man, teaches in-line skating, downhill skiing and music lessons. Ted is self-taught, playing by ear only. (He also plays electric bass, guitar, piano and drums.) Primarily a blues musician, Ted Watkin has been with the Cambridge Harmonica Orchestra since '83, and has been part of several bands including ALL POINTS BULLETIN BAND and as an original member of THE RED HOT SWINGING JOHNSONS.
Ted and the band mutually parted ways in spring 1998. You can check on him at his web site.

HOW DID THIS BAND HAPPEN?
by Muriel C. Begonia
editor, BBATB performance booklet
In the days of Big Blow's conception, they played wind instruments. When Ted Porter and Don Plehn took a breath on flutes and trombone, Tim Whittemore kept the music constant by the circular breathing on his PVC pipe didjiridu. The name Big Blow was inevitable. The sound was a little stinky, so the trio's original full name was Big Blow and the Armpits.
Now with a core group of 5 musicians (who all bathe on a somewhat regular basis), Big Blow and the Bushwackers perform on far more than just wind instruments. With the addition of Mick Haensler on percussion instruments of all types, and Ted Watkin on anything he can get his hands on or his air through, Big Blow and the Bushwackers has developed an eclectic yet distinctive sound infused with energy.

The five members of Big Blow and the Bushwackers each come from different musical backgrounds. Ted Watkin brings a history of blues styles, and Tim Whittemore has over a decade of classical training. Don Plehn has a music education degree and a songwriting itch; Mick Haensler emerges from the various beats of popular dance; and Ted Porter brings a wealth of music passed on through the oral tradition. These combined influences create the sounds of Big Blow and the Bushwackers, whether it's an original piece or a traditional tune that's been "bushwacked."

The band's sound currently has a jolly Celtic influence and an inherent sense of humor. You can hear it in the group's recordings, and experience it in their live shows. "Recording is secondary; Performing live is what we're really about." explains Don Plehn, Mick Haensler adds, "The main thing is having a great time...and infecting the audience with fun!" Tim Whittemore smiles in agreement and adds "Yeah, my favorite thing is that little kids love our show right next to their parents and grandparents. That's such a great thing"

Having fun is obvious in the band's performance style and in the instruments they make themselves. Almost half their instruments are handmade, self-invented or found things. NPR's Jackie Lydon describes their arsenal as looking "like a set from Star Wars". Didjiridus made from trash, massed PVC pipes played with flip-flops, conch shell trumpets, the one-stringed Juicy-Juice can...how 'bout a Slinky, cap guns, rhythmic juggling...

Audience involvenent was inevitable. Soda can shakers, bamboo clackers, and even didjiridus got handed out. This grew into actual workshops in some settings which now include didj instruction, weird instrument design, and a musical tour of the world.

Lots of people are coming out to witness for themselves this weird amalgamation of tribal rhythm and traditional music the band calls "aggressive, involving folk music."

All the above information comes from the Big Blow and the Bushwackers performance program. It's very cool and it's FREE, so if you can get your hands on one; Grab it! There's even a band related crossword puzzle in there!

Back to the Big Blow and the Bushwackers main page
If you have any questions or comments about this page, please send them to: jcst@tripod.net. Last modified: Sat March 27 1999