---
Big Blow Reconstituted
The bad have reformed as the original trio, and created a new web site. For more info, please see http://bigblowandthebushwackers.com.
---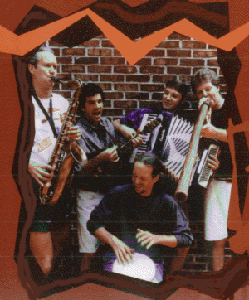 photo by Rick Maloof, 1995

Big Blow and the Bushwackers have been described as "the world's best plumbing band." Using a mix of traditional instruments, Australian aboriginal instruments and some fascinating ones of their own creation, they provide an exotic folk, punk, celtic sound and are great fun to watch.

From the Off Kilter EP CD:Arran Boat Song (RA). From Habagoola CD: Fiddler a Dram (470K .au). From What Didjeridu? cassette: Shawnee Town (190K .au). More samples are available on the music pages .
The Bushwackers play a dizzying array of instruments: folk, classical, found, created, and of course the didjeridu.
Big Blow and the Bushwackers entertain at festivals and venues throughout the Mid-Atlantic states.
Two CDs and several cassettes are available for your delectation, spanning (and sometimes combining) a wide range of styles.

Mailing List

Call 1-800-380-1128 to get on the BBATB mailing list. You'll receive periodic mailings containing news and updated schedules.
To purchase Big Blow and the Bushwackers music or merchandise, call 1-800-380-1128, e-mail Tim Whittemore or write
Big Blow and the Bushwackers
302 New York Ave.
Salisbury, MD 21801
Are you a Bush Leaguer? Visit the Bush League Homepage! More audio clips, news, and reviews. The Bush League is the Official Fan Club of Big Blow and the Bushwackers.
Please feel free to leave a message in the guest book.

The band plans a 1999 sabbatical, but they can be bribed. See the Gigs page for details.
New phone number: use 1-800-380-1128 for all band contact.
New URL for Ted Watkin website
The 1998 gigs were updated Jun 22nd, 1998.
Liquid Didj: Submerged centers around Tim Whittemore's didj, with several Bushwackers making guest appearances.
"Off Kilter", the new EP CD, released March '97.
The Dreamtime server is a must for all didj-o-philes, with didj info, audio clips, and discography.
Visit the Salisbury Music Page, original hosts of the Big Blow web site.
If you have any questions or comments about this page, please send them to: jcst@tripod.net. Last modified: Sat March 27 1998